Martin Tasker plays Hawke's Bay - Part 2

Check out part 1 of Martin's story here
First surprise on a day of many was finding ourselves at a dead end by the beach after driving past the rather discrete entrance to Cape Kidnappers. Steps retraced and a call to security sees the gates swing open for access to the 15-20 minute drive up a winding road which general manager John McCord reckons sets the tone and builds anticipation: "Are we there yet? Can it get any better?" It also slowly builds up the intimidation factor as one of the most spectacular stretches of golf in the world is revealed.
We're met at the clubhouse…a masterpiece of elegant simplicity…the clubs are hoisted onto carts and the car taken away. The fabulous practice range beckons with its pyramids of balls. There is no time pressure. It is a fabulous day but with a building breeze. We take advice to play off the shorter green tees and, inspired by our surroundings, hit three great drives off the first. Easy as.
Then the roller coaster rocks in…physical and emotional. The intimidation factor is hard to ignore.  John McCord's advice:  "Don't worry about what you shoot and score, just enjoy. We want people to come here and enjoy a round of golf but where they also forget about the round and are just in awe of the surroundings."  Consciously we keep stopping to absorb the stunning cliff-top vistas. But McCord also acknowledges the internal struggle: "The longest distance on the course is the one between your ears!"  
There are moments of triumph: Simon hits the 4-iron of his life to set up par at "Infinity", the par 4, 12th. But like the proverbial tree falling in a forest, nobody sees or hears it. What we do hear plenty of are cheers as the ball heads towards a hole, followed by a groan as it just misses, then "****"as it rolls miles by.
Following the advice in the excellent and beautiful course guide is advisable because it is so accurate. As I proved.  Take "Pimple" the par 4, 14th: "Any hint of a fade will not carry to the fairway." True. As is: "The pot bunker has a gravitational pull far greater than its size." Too true.
The other bunker with similar qualities was at Pirate's Plank, the par 5, 15th,  which sucked Simon's 5-iron right through the green and over the edge. Recovery required overcoming knee-trembling vertigo from hovering over a 130-metre drop into the sea. "Golf to the extreme," John McCord had rightly claimed.
He also said you have to be able to control your emotions. Take deep breaths. Embrace it. Easier said than done. Case in point this exchange after Simon, the longest hitter in the group, hits his drive at the last. Simon, grimacing at the result: "Huh. Average." Ivor: "Don't say average. That's next to my ball!" The next day Ivor threatens to send us his psychiatrist's bill.
At the conclusion Simon says: "That's the most swear words I've ever heard from us three." Yet the net result is actually OK. The boys have to buy me drinks by just one point - always good – and contrary to what we'd been told to expect, we actually found more balls than we lost. More importantly, we'd all like to go back. 
Cape Kidnappers Golf Club
446 Clifton Road, Te Awanga
Green fees: International high season: $495 (low season $313), NZ residents $257 (low season $187)
Tips: Play "thoughtful" golf…think your way around the course.
Be excited to be taking on one of the world's greatest golf courses. 
Treat: Having your clubs cleaned before they're put back in the car. 
As surprises go, we inadvertently saved the best until last. Given its reputation it was no surprise that Cape Kidnappers was simply sublime whereas Takapau turned out to be unexpectedly delightful…as well as quirky, interesting, challenging, varied, humorous and welcoming.
From the honesty box onwards, there is a feeling of community with the visitor's eyes drawn to the local notices. They include an invitation to be a social member for $12 a year - to "Help Keep Takapau Golf Club viable" - and effusive thanks to suppliers, supporters and volunteers: "Without you we would not survive!" 
After a warm-up on the practice green saw us all holing putts effortlessly…why oh why do we always suspect that we've wasted them?…we set off for the first tee, which turned into something of a navigational intelligence test.  After a ten-minute walk we found the Westward Ho tee box and were rewarded with a generous fairway for a starting hole. We were off.
Expecting something of an up and down series of tree-lined fairways, we were instead treated to a wide variety of topography and challenges. The Styx, the par 3, 5th springs to mind – the flag hidden by a willow tree with a stream running alongside the green. Lucky escape here!   
The par 5, 7th Dardanelles is remembered for the accompaniment provided by whinnying alpacas in an adjoining paddock, and Hill Go gets a big tick for the carry across the stream and ravine.  All up a cracking little course and astonishing value for $10. 
Takapau Golf Club
Charlotte Street, Takapau
Green fees: $10
Tips: Prepare to be surprised and challenged.
In summary
We'd been promised and were expecting a lot from Hawke's Bay and it delivered on all fronts. We were based for three nights in Napier at the excellent Art Deco Masonic Hotel on the waterfront where we enjoyed some great food in the Emporium Eatery and Bar and some fine Guinness in the adjoining The Rose Irish Pub.
The courses we played were no more than 40 minutes to an hour away so we could return to base with plenty of time to regroup before walking to dinner nearby. We also ate well at Portofino and Milk & Honey and special mention should be made of the Sawyers Arms at Tikokino on SH 50 for their outstanding sandwiches and top class homemade pies! 
We also enjoyed tasting some fine wines in the Paritua Winery at 2112 Maraekakaho Road near Flaxmere courtesy of Vince Labat, who outlined plans to open a cellar door facility for visitors later this year.
So we will be back… not least because we passed so many other enticing courses on our way to the four we played.
This is part 2 of a two-part series by Martin Tasker.
Te Pohue Golf Club
Hastings Golf Club / Bridge Pa
Part 2
Cape Kidnappers Golf Club
Takapau Golf Club
Take a look...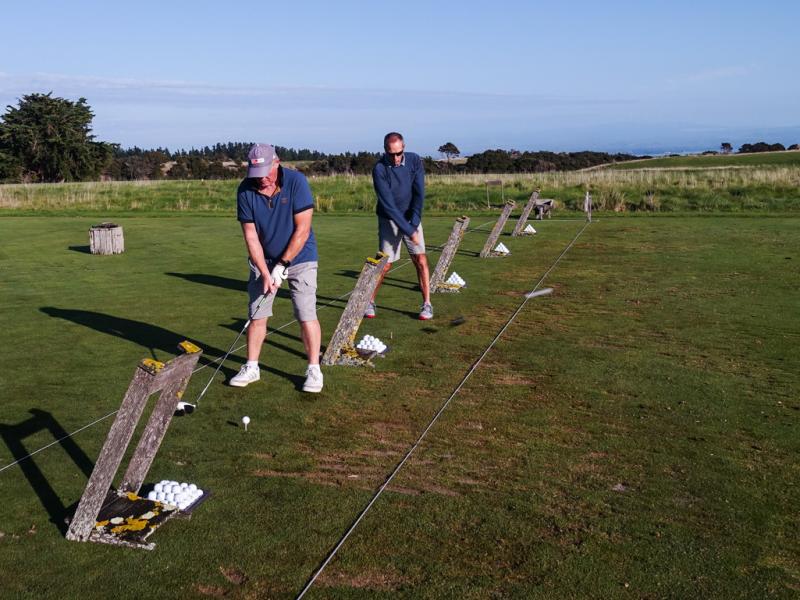 Practice pyramids at Cape Kidnappers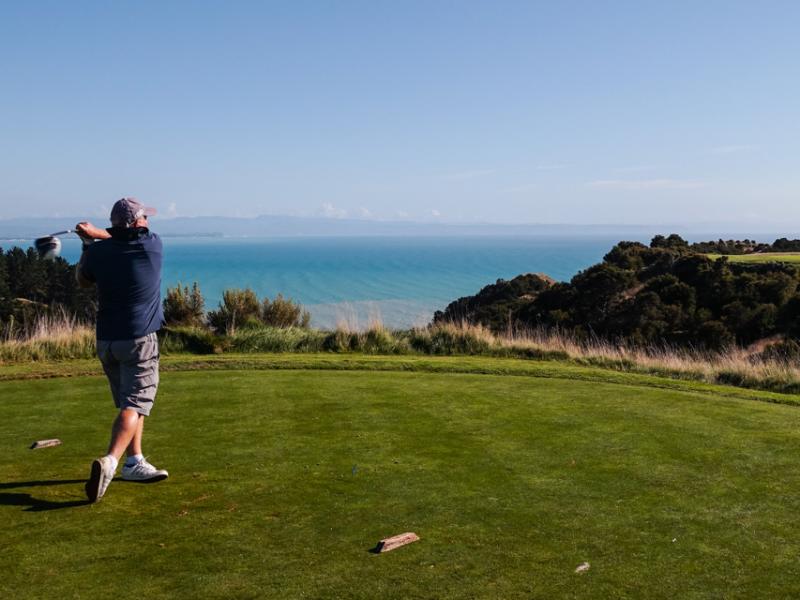 Hoping and praying at Cape Kidnappers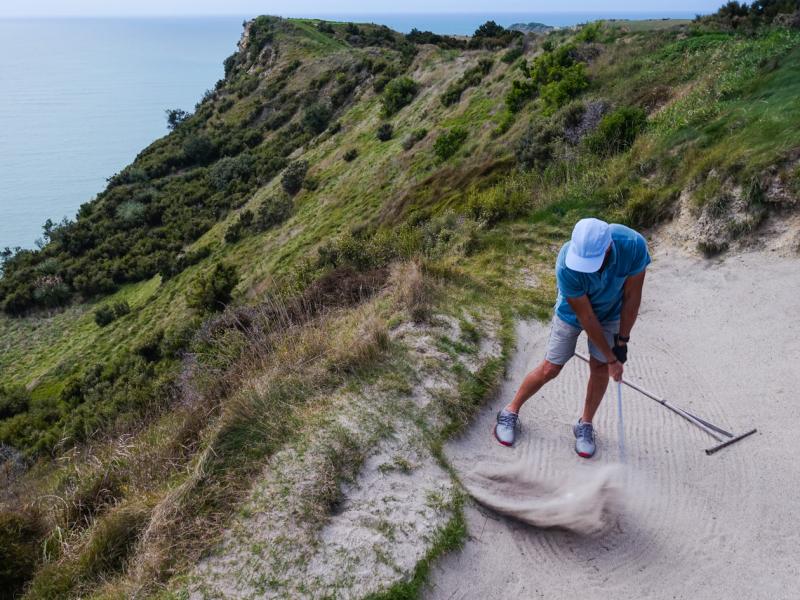 Pirate's Plank at Cape Kidnappers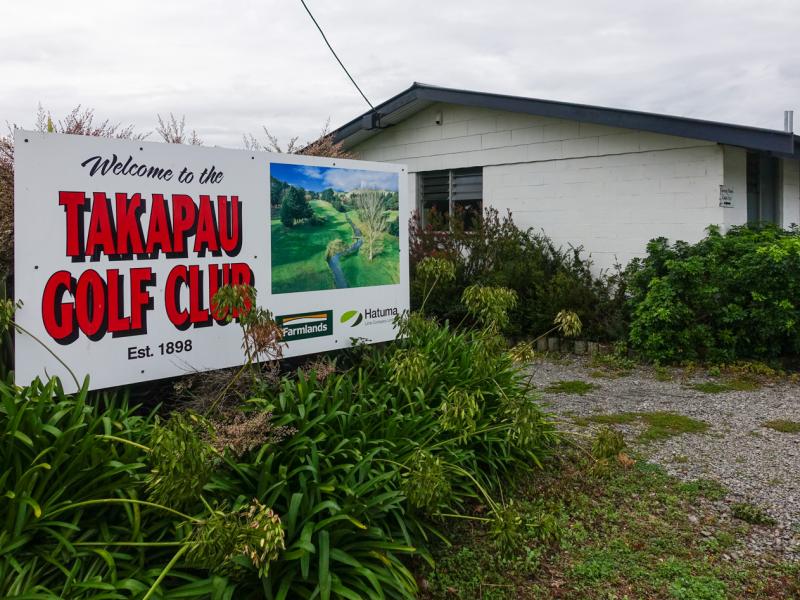 Welcome to Takapau Golf Club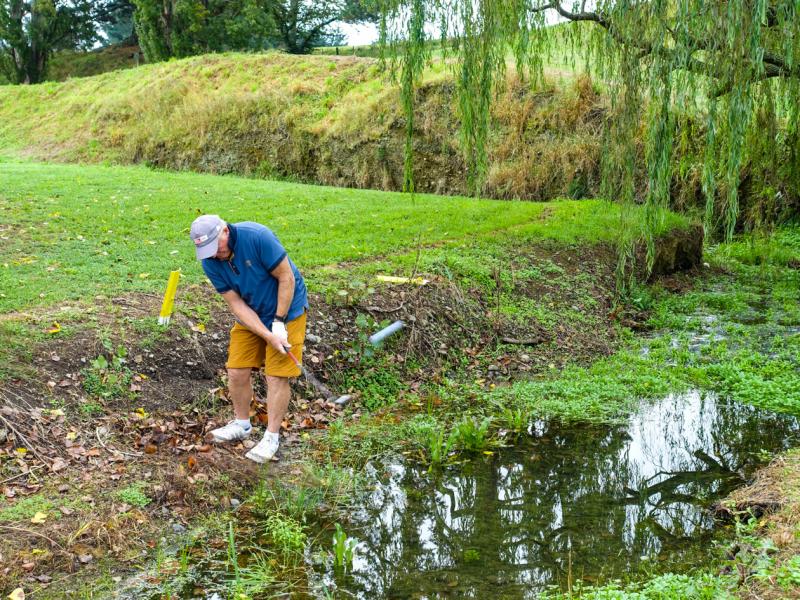 Lucky escape at Takapau 5th hole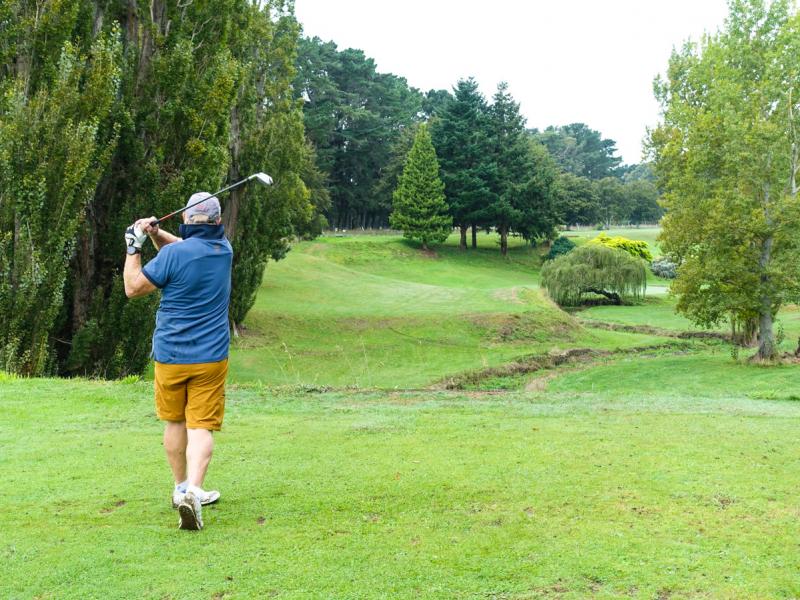 Tee shot at Takapau 5th hole